Navarra, nature, desert, water and pure air. The History of a King is still present in landscapes, towns, castles … Gateway to the Camino de Santiago, where Pilgrims enter Pamplona on their Jacobean route through the Magdalena Bridge, a Medieval bridge. Olite, Tafalla, Puente La Reina or Roncesvalles, dream places in Navarra.
There is a Navarra of places where only if you go you know they are, where your tranquility and exclusive experiences await you
We propose you this getaway, in a 5 * hotel "only adults", the days are up to you.
Arantza – one of the hidden and mountainous villages. San Sebastian – 1h; Pamplona – 1h15 – Bilbao- 2h – Vitoria 1h45. Accessing by a narrow mountain road, you will reach this beautiful and quiet town.
11 luxury rooms, open to nature from their windows. relaxation and well-being spaces. They will take you through the love story through which it was designed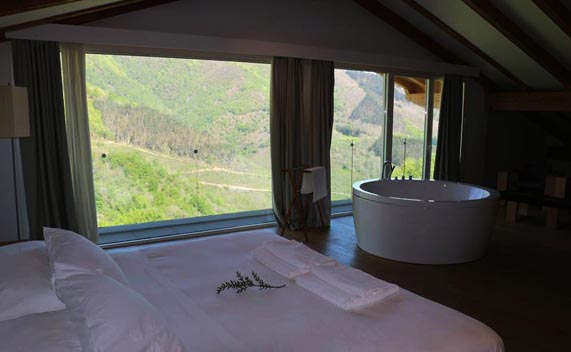 Private spa, exclusively, massages, gym. Place where you can telework.
His restaurant is pampered by his team, who visit markets and orchards to select the product in each season and prepare their dishes.
Being in nature and tranquility will allow you to carry out exclusive experiences in the area such as:
Travel by 4×4
horse trails
bike ride
get to know a baserri (farmhouse, traditional dwelling)
Enjoy an experience with the great Chef, with 3 Michelin stars Juan Mari Arzak, an exclusive private experience.
Gastronomic Day – Gastronomic Society.
go to a gastronomic society, known as txoko or elkartea. A place that can only be entered if you are a family member or friend of a member. Cook with one of the partners and with a chef. It is a luxury to be able to enter a gastronomic society.
Drive a motorcycle or large-displacement car in a car circuit in Navarra
Wineries, beer, wines, patxaran – 1 to 2 h
If you travel as a family with children, you can enjoy in its 5 luxury rural apartments, called bordas, old shepherds' houses, later converted into homes.
They are found inside the forest so you touch, feel and breathe nature. full kitchen, although the hotel can prepare everything and pick it up to take it away.
Navarra Te Sonríe